Sign up to make yourself available to write notes of encouragement to specific members of our armed forces.  Missions come approximately once a month. This is also how you will be notified about the Annual Medal of Honor Mail Call.  This month's mission is pasted below the sign up button: 
Mission #40 (3-part mission this month!) 
We have 2 veterans with big birthdays coming up (75th and 100th!). We also have a 104 year-old veteran who requested Valentines. ♥️ Scroll down past photos for all details and mailing info.
HUGE thank you to all participated in Mission #39!!  Veteran Last Patrol collected OVER 5,000 cards!! They also received gifts and donations. Their volunteers hand delivered them to veterans in hospice care over the holidays. You are all awesome – here are some beautiful pics: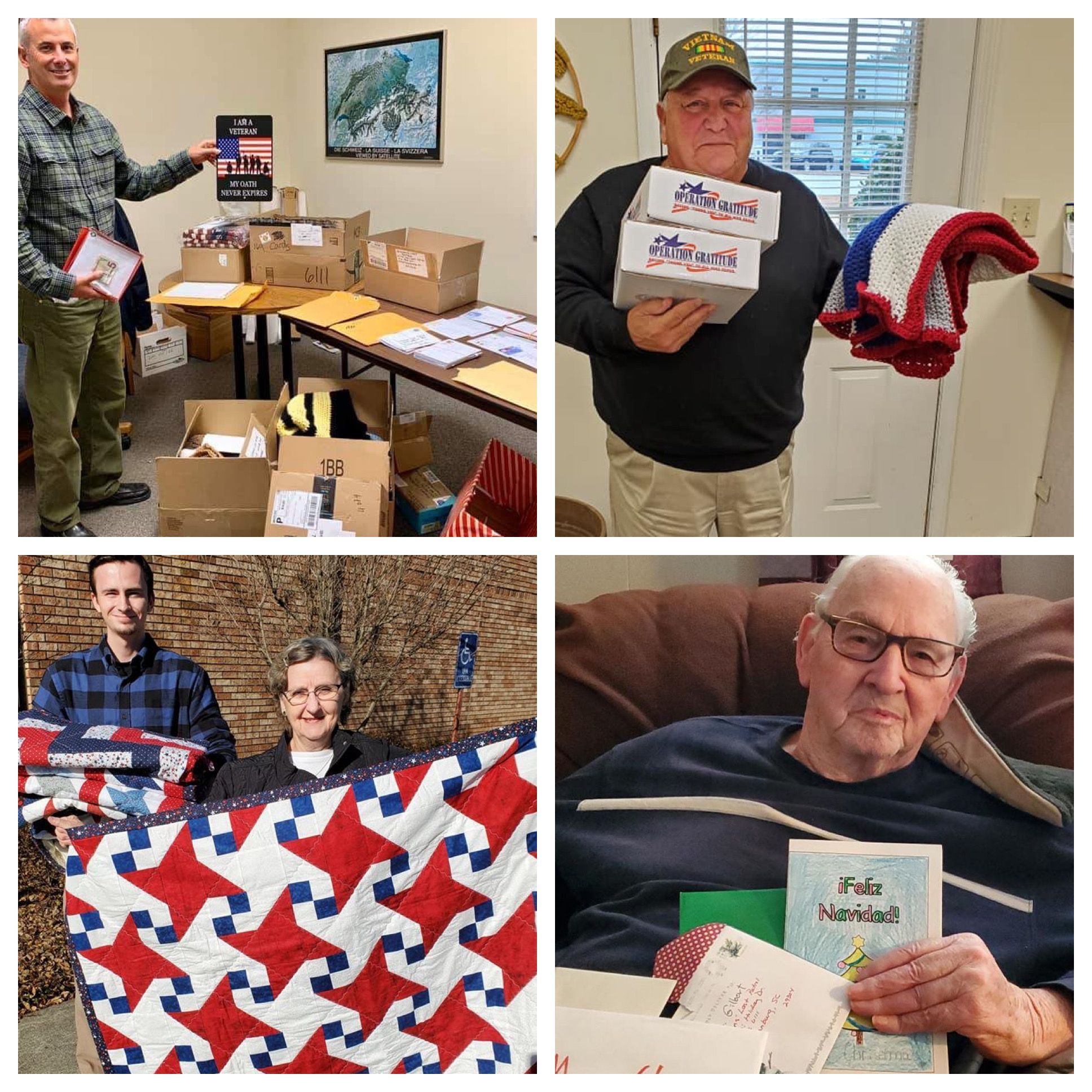 Medal of Honor Mail Call is coming soon! I wanted to get the word out about these three veteran's first! …Here is Mission #40: 
1 of 3:  SEND 75th Birthday / Welcome Home Greetings to a Vietnam Vet!
Larry Meredith is a Vietnam Veteran who served in the US Army 9th Infantry Division.  His hometown is Hudson, MI and favorite team is the Michigan Wolverines. 
A note from his son:
My dad was attending Adrian College studying accounting when he dropped a class changing his student status to part-time and was subsequently drafted to serve in Vietnam. He was stationed for a year in Tan An in the Mekong Delta with the 9th Infantry Division of the Army. He was with the artillery group and his specific job was a radioman to give locations of where to fire upon the Vietnamese. The experience was awful and one he doesn't talk about much.
He and his group couldn't get out of Vietnam fast enough.
Larry's birthday is March 20th.  His family will collect your cards and will bring them all as a surprise when they visit him for his birthday! 🎂 
Deadline: March 5th
MAILING ADDRESS:
Grand Valley State University
Attn: Lawrence Meredith
1 Campus Drive, SER 1221
Allendale, MI 49401
---
2 of 3:  Send a 100th Birthday Card to WWII Marine Veteran: 
Gorden L. Mulkey of Alabama turns 100 on January 20th. I know this is short notice, but know some of you are quick on the draw!! Remember you don't have to buy cards for any of these missions – make a card, write a letter, send a postcard…have your kids draw him a picture! He will LOVE it all! 
MAILING ADDRESS:
Gorden L. Mulkey
3474 HWY 11
Pelham, AL 35124
Deadline: ASAP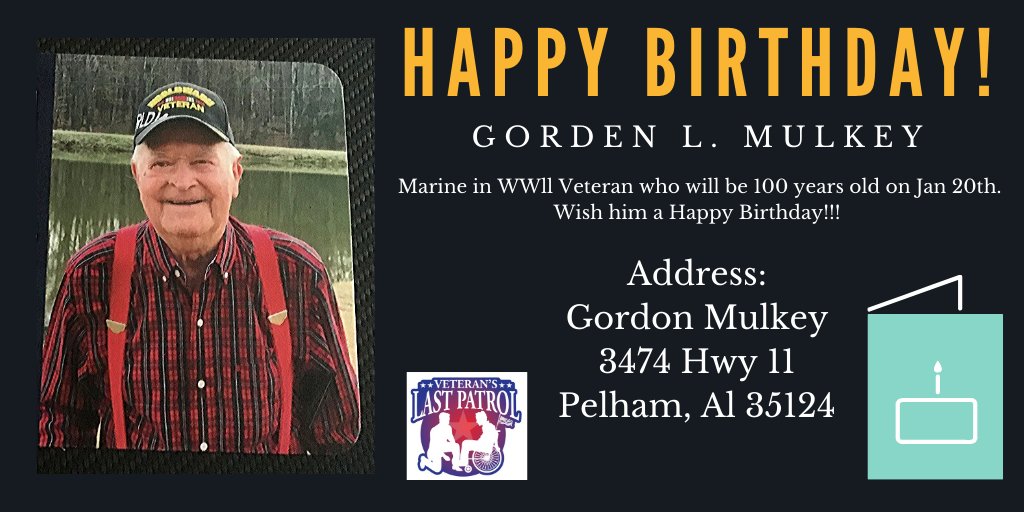 ---
3 of 3:  SEND a Valentine to 104 year-old USMC Veteran Major Bill White
104-year-old veteran asking for Valentine's Day cards: 'I'll save every one of them'. You may have seen his story on the news.  http://bit.ly/2u5TjFy 
MAILING ADDRESS:
Operation Valentine
Attn: Maj Bill White, USMC (RET)
The Oaks at Inglewood
6725 Inglewood Ave.
Stockton, CA 95207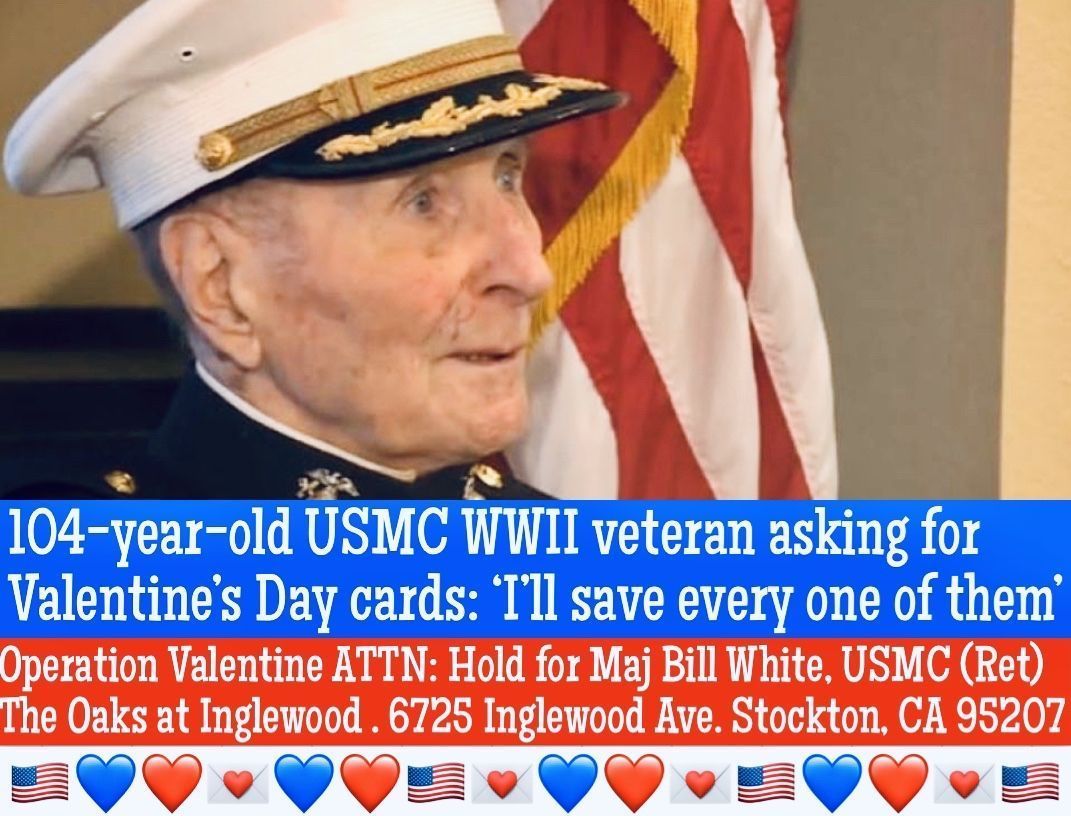 ---
A documentary on my journey through all 50 states called "National Anthem Girl" has been released on Amazon Prime! Stream/rent/buy here.  For a DVDs – or other stream options, click here.
SCHOOLS, CIVIC CLUBS, VETERANS GROUPS, CHURCHES: You can use this film to raise money for your group with a screening event!
Learn how to host a screening event of the documentary as a benefit / fundraiser. 
---
Know a veteran / military family that could use some encouragement? Send an email.
Know others who would like to join Janine's Team? Send them this link: http://bit.ly/1YpmLLU
Always remember: America is beautiful because of people like you – who take the time to care.
---
Interested in booking Janine Stange to speak at your corporate, school, or organization's event? CLICK HERE  for info.
---
Volunteer to visit veterans in hospice care! Click below:
---
This past March, over 12,000 letters were collected for our Medal of Honor Recipients, here's the recap video.